Inhalt
Lage
Technik
Panorama-Erklärung
Historie
(for english version please have a look below)
Lage
Die Wetterstation befindet sich am südöstlichen Stadtrand von Freiberg, auf einer Höhe von 418 m NN und in einem Wohngebiet mit hohem Grünlandanteil. Topographisch schmiegt sich das Wohngebiet an einen flach nach NO geneigten Hang.
Die Webcam befindet sich am nördlichen Stadtrand von Freiberg, am Bürogebäude des Deutschen Brennstoffinstitutes (DBI) mit Blick nach Süden (Details siehe unten).
Die Universitätsstadt Freiberg ist eine große Kreisstadt, Bergstadt und Silberstadt, etwa in der Mitte zwischen Dresden und Chemnitz, auf einer Höhe zwischen ca. 360 m - 480 m NN gelegen. Sie ist Verwaltungssitz des 2008 gegründeten Landkreises Mittelsachsen sowie Sitz der 1765 gegründeten Bergakademie Freiberg.
Die TU Bergakademie Freiberg ist die älteste noch bestehende technisch-montanwissenschaftliche Universität der Welt!
Der gesamte historische Stadtkern sowie die vielen örtlichen Denkmale und Zeitzeugen der fast 1.000-jährigen Bergbaugeschichte (z.B. Silberbergbau Reiche Zeche) gehören neben 21 weiteren Ortschaften auf sächsischer und böhmischer Seite
seit 2019 zum UNESCO-Welterbe "Montanregion Erzgebirge".
Technik
Wetterstation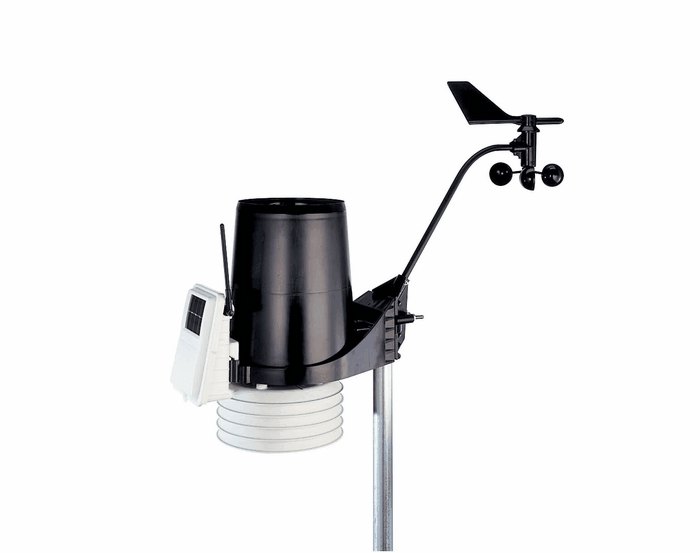 Modell
Davis Vantage Pro 2, Funkversion
Messungen
Thermo-/Hygrosensor
Der Thermo-/Hygrosensor und die Niederschlagsmessung befinden sich im Garten in einer kleinen, von SW nach NO leicht abfallenden Senke eines schon vor über 70 Jahren verrohrten Bachlaufs. Die Hauptmessung für Lufttemperatur und Luftfeuchte befindet sich in einer Lamellenhütte 2 m über Gelände und wird aktiv belüftet.
Ein 2. Temperatursensor befindet sich 10 cm unter Gelände, in der ca. 3 m entfernten Wiese, für die Ermittlung der Bodentemperatur. Der 3. Temperatursensor misst 5 cm über dem Boden, ca. 30 cm neben der Wetterstation.
Gleichzeitig wird die Luftfeuchte in % gemessen.
Niederschlag
Die Messungen erfolgen automatisch mit Wippe, welche mit der manuell ermittelten Menge nach Prof. Hellmann (100 cm²) verglichen wird. Die Abweichung des Automaten beträgt 0-10 % und kann bei starken Niederschlägen bis zu +15% betragen.
Schnee
Schneehöhen werden zukünftig unter dem Menüpunkt Archiv manuell auf der Website eingepflegt. Der Wert ist ein Durchschnittswert aus 2 bis 15 manuell gemessenen Werten an aussagekräftigen Stellen im Garten – je nach Verwehungsgrad. Es ist noch vorgesehen, für Niederschläge unter 0°C eine Heizung an der automatischen Erfassung nachzurüsten. Bis dahin wird bei Schnee, Graupel, Hagel, Raureif und Eis die manuelle Messung (Hellmann) herangezogen.
Globalstrahlung
Der Sensor misst die Summe der auf ihn einwirkenden Licht-Strahlungen (z.B. Sonne, künstliches Licht, etc.) und befindet sich 2 m über Gelände am Niederschlagsautomaten.
Anemometer
Der Windmesser befindet sich auf dem Dach, ca. 11 m über Gelände bzw. 1 m über Dachfirste.
Alle übrigen dargestellten Werte werden aus den Messwerten errechnet.
Webcam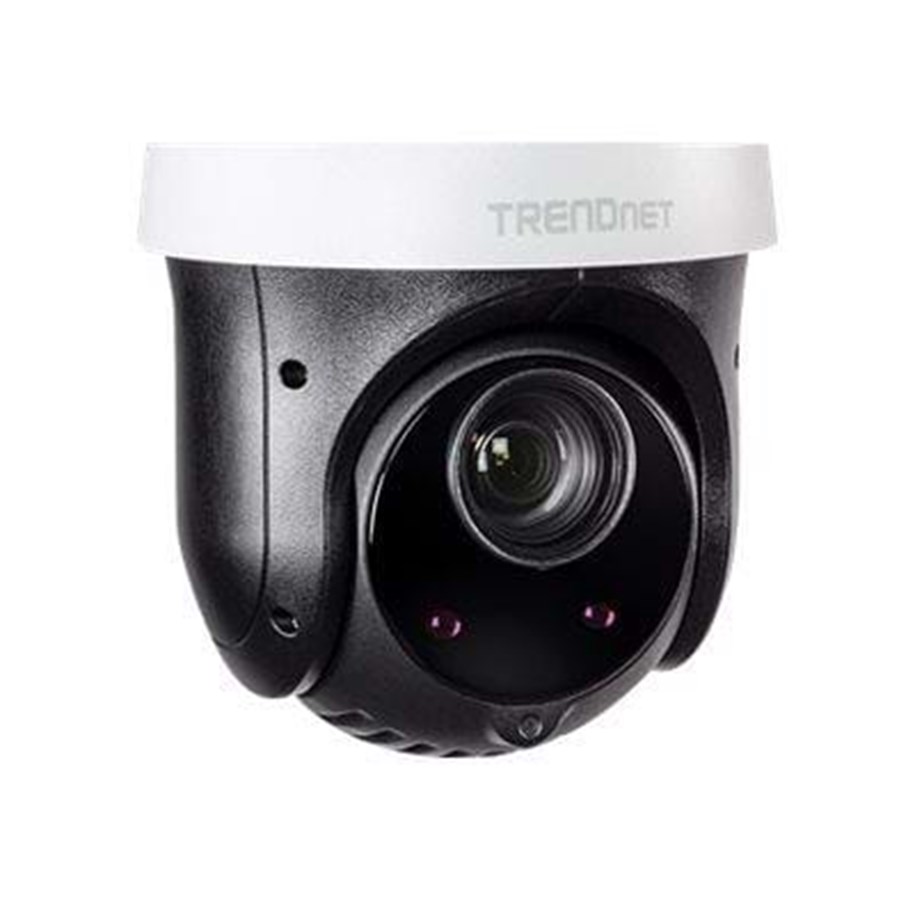 Modell
Trendnet TV-IP440PI, Dome Netzwerkkamera, 2 Megapixel, 20x optischer Zoom
Standort
Auf der Südseite des Daches des Bürogebäudes Halsbrücker Str. 34, 09599 Freiberg (ca. 28 m über Gelände – ca. 433 m NN)
Großen Dank für die unkomplizierte Genehmigung und freundliche Unterstützung durch das Deutsche Brennstoffinstitut (DBI).
Update Intervall
Momentan fährt die Webcam in Dauerschleife das Panorama ab, zoomt dabei an die genannten Stellen und hält kurz an. Währenddessen werden aller 60 Sekunden Schnappschüsse gemacht und per FTP übermittelt.
Blick
Man blickt vom nördlichen Stadtrand von Freiberg nach Süden über das Stadtgebiet Freiberg zum Erzgebirgskamm (ca. 30 km). Die Webcam zeigt von ihrem Standort aus ein Panorama, das sich von Osten über Süden bis ca. 270° WSW erstreckt.
Im Panorama enthaltene Landschaftsmarken sind im Panoramabild beschriftet: von Osten beginnend die Reiche Zeche (ca. 430 m NN), die Schornsteinzwillinge von Muldenhütten, die Alte Elisabeth,das Stadtgebiet Freiberg, der Schornstein Brand-Erbisdorf (ca. 490 m NN), hinter dem Münzbachtal (ca. 360 m NN) der Neubau (2020) der Universitätsbibliothek und daneben der Campus der TU Bergakademie.
Panorama-Erklärung

Nahaufnahmen/ Details:
Schachtanlage "Reiche Zeche"
(Lehr- und Forschungsbergwerk der TU Bergakademie Freiberg und Besucherbergwerk)
(Teaching and research mine of the TU Bergakademie Freiberg and visitor mine)
Schachtanlage "Alte Elisabeth"
(Teil des Besucherbergwerks)
(Part of the visitor mine)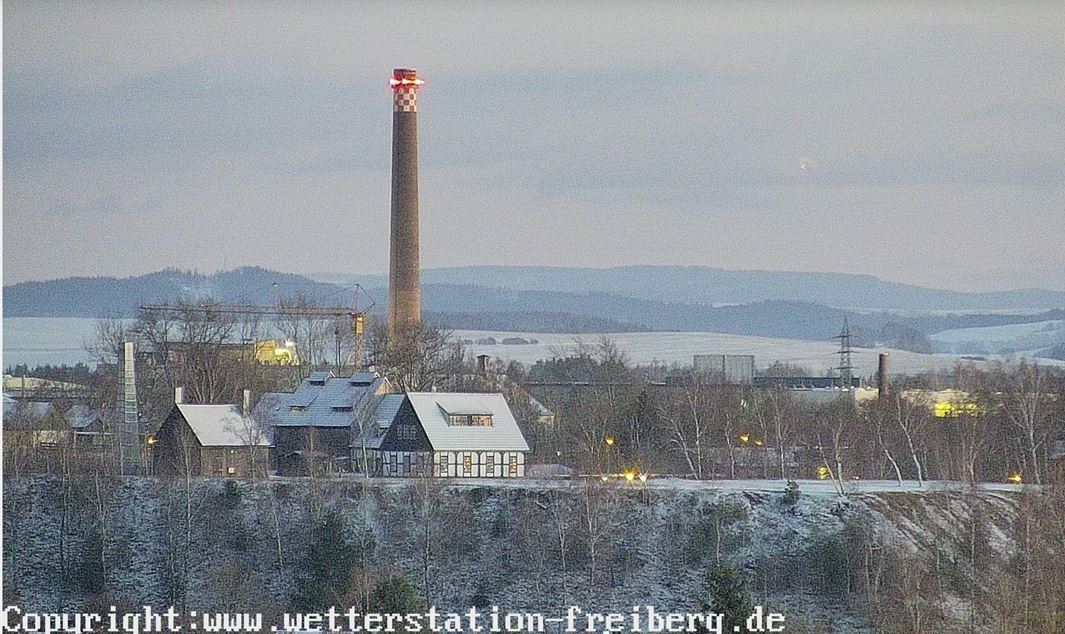 Südöstlicher Horizont - von Ost nach Süd:

Southeast horizon - from East to South: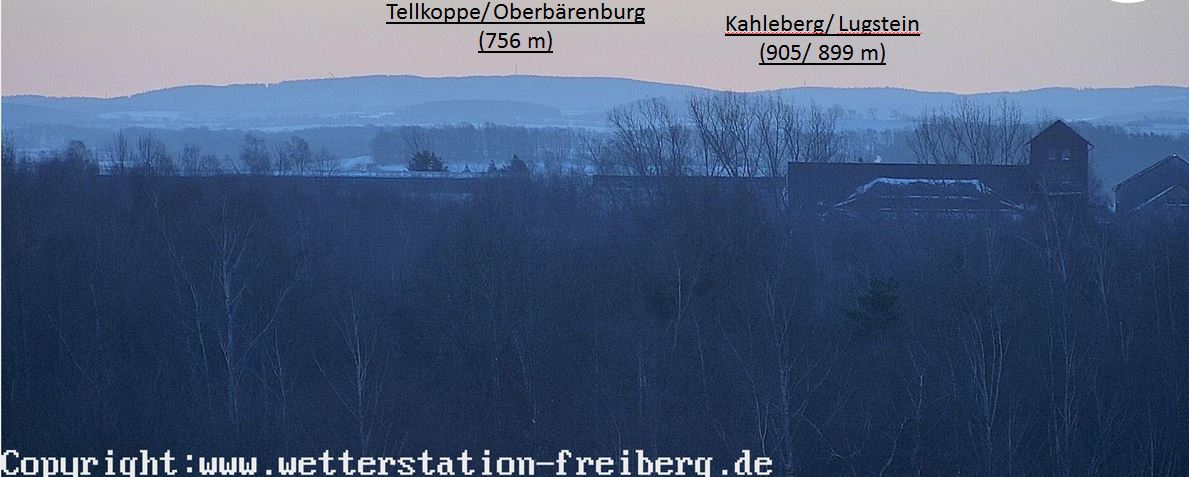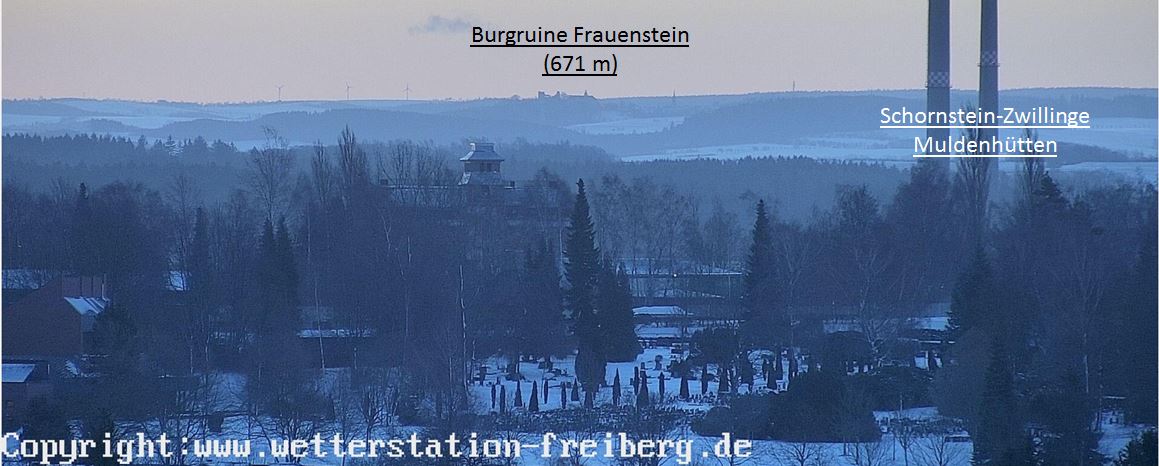 Altstadt/ Down Town Freiberg
v.l.n.r.: Jakobi Kirche, Donatsturm, Dom, Petrikirche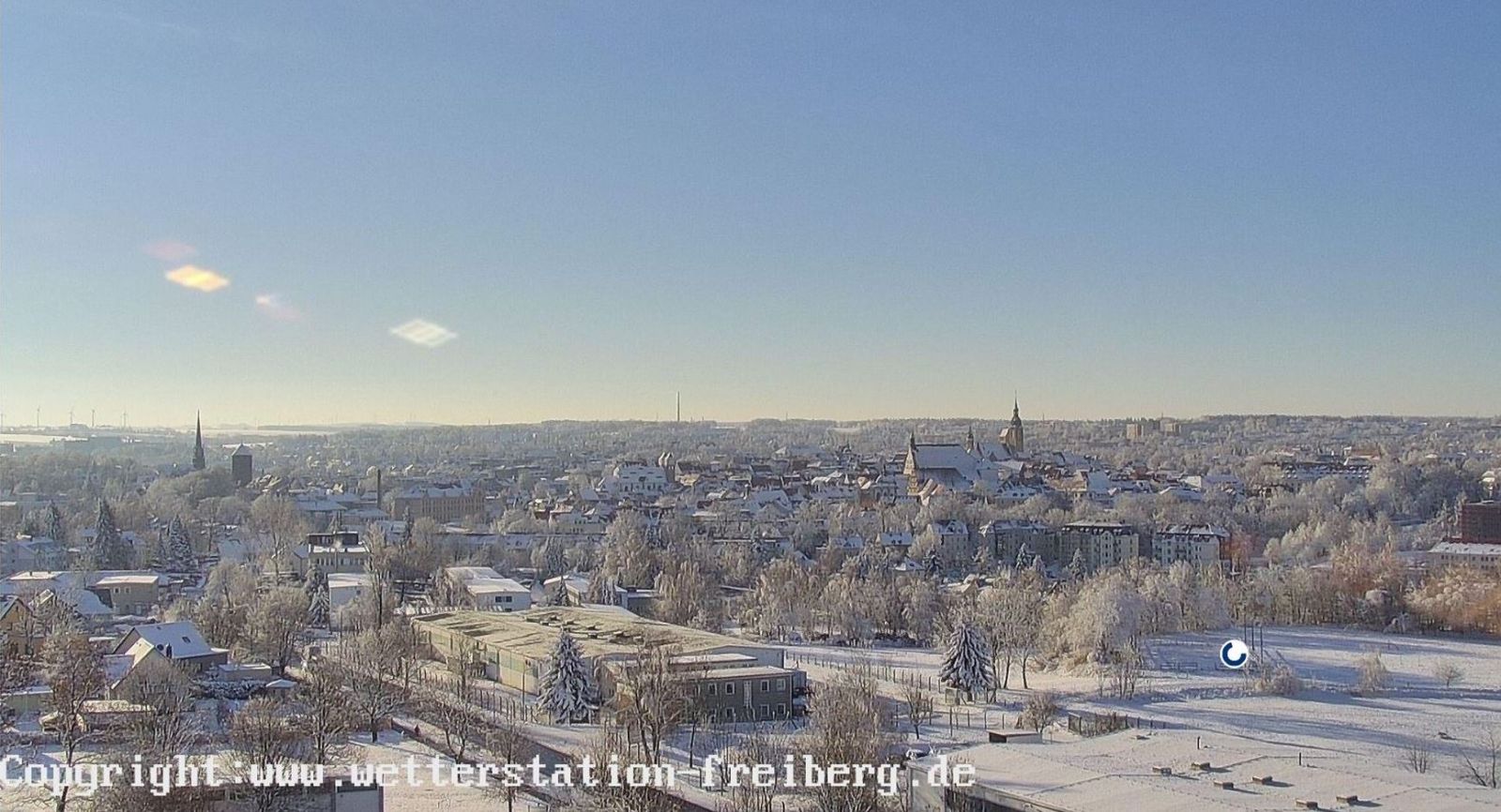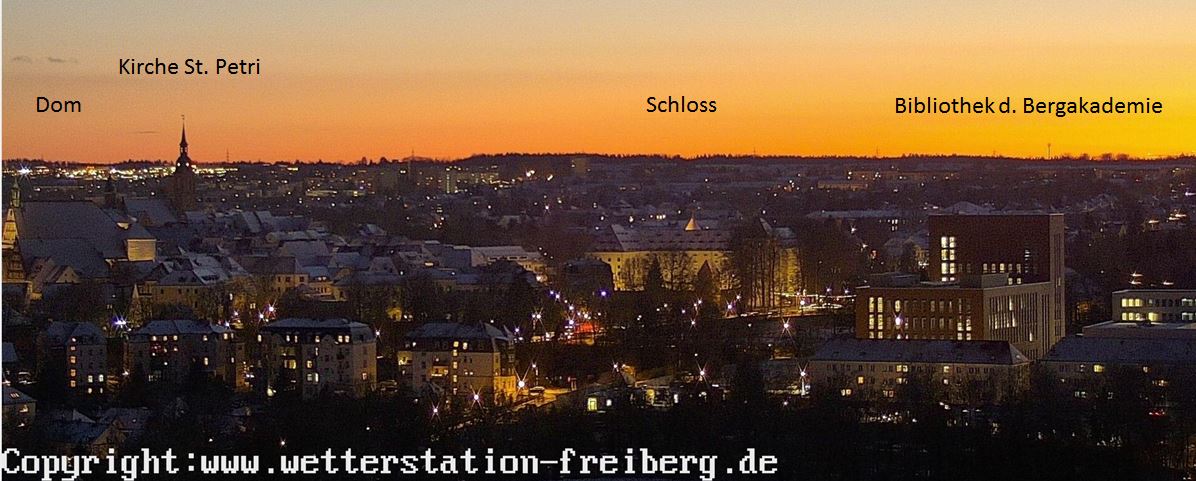 Historie
2023
Weitere Verfeinerung der Darstellung sowie Ergänzung der aktuellen Messwerte mit Werten für Tage, Monate und Jahre (Niederschlag, Verdunstung, Strahlung, etc.).
Übersetzung der Informationen auf Englisch.
2022
Weitere Verfeinerung der Darstellung sowie Ergänzung der aktuellen Messwerte mit Werten für Tage, Monate und Jahre (Niederschlag, Verdunstung, Strahlung, etc.).
Übersetzung der Informationen auf Englisch.
2021
Weitere Ergänzungen in den Menüpunkten "aktuelle Messwerte" mit Messwerten wie Niederschlag, Windrichtung etc. sowie unter "Statistik" und "Archiv".
2020
Ergänzung der Luft-Temperaturmessungen durch einen Sensor bei +5 cm
Ergänzung der Beobachtungen zum Wettergeschehen durch eine Webcam. Dabei konnte das Deutsche Brennstoffinstitut (DBI) für die Montage am Dach des DBI-Gebäudes gewonnen werden. Die Webcam zeigt nun ein Panorama, welches zu den schönsten online verfügbaren Aussichten des sächsischen Erzgebirges gehört.
2019
Beauftragung der Erstellung einer eigenen Wetter-Homepage und gemeinsame Entwicklung der Seiten mit freundlicher Unterstützung von https://www.porstmann.com/. Die per Weatherlink-Software übermittelten Daten in die US-amerikanische Cloud und der Darstellung ist für mich nicht zufriedenstellend gewesen und eine dortige Editierung durch mich nicht möglich.
2018
Ergänzung der Temperaturmessungen durch einen Bodensensor bei -10 cm
Reservierung zweier Domain-Namen
2017
Ergänzung der Niederschlagsmessungen durch eine analoge Messmöglichkeit nach Prof. Hellmann mit einem 100 cm² - Gefäß
Im August 2016
wurde mit den Wetteraufzeichnungen anhand der aktuellen Wetterstation Vantage Pro 2 begonnen. Größter Dank für diese "Grundsteinlegung" geht dafür an http://www.dresdenwetter.de/, welcher die Station als Dauerleihgabe zur Verfügung gestellt hat sowie meine Familienangehörigen, die sich dann doch für das Projekt begeistern konnten.

English Version:
Location
The weather station is located on the southeastern outskirts of Freiberg, at an altitude of 418 m above sea level and in a residential area with a high proportion of parkland. Topographically, the residential area nestles on a slope sloping gently to the NE.
The webcam is located on the northern outskirts of Freiberg, at the office building of the German Fuel Institute (DBI) facing south (see below for details).
The university town of Freiberg is a large district town, mining town and silver town, located about halfway between Dresden and Chemnitz, at an altitude between approx. 360 m - 480 m above sea level. It is the administrative seat of the district of Central Saxony, which was founded in 2008, and the seat of the Freiberg Mining Academy, founded in 1765.
The TU Bergakademie Freiberg (Freiberg Mining Academy) is the oldest technical and mining science university in the world that is still existing and educating!
The entire historic town centre as well as the many local monuments and contemporary witnesses of almost 1,000 years of mining history (e.g. silver mining Reiche Zeche) belong
to the UNESCO World Heritage "Montanregion Erzgebirge" since 2019, together with 21 other places on the Saxon and Bohemian (czech) side of the Erzgebirge mountain.
Devices
Weather station

Model
Davis Vantage Pro 2, radio version
Thermo/Hygro Sensor
The thermo/hygro sensor and the precipitation measurement are located in the garden in a small depression that slopes slightly from SW to NE of a stream that was piped over 70 years ago. The main measurement for air temperature and humidity is located in a lamella hut 2 m above terrain and is actively ventilated.
A 2nd temperature sensor is located 10 cm below ground level, in the meadow approx. 3 m away, for determining the ground temperature. The 3rd temperature sensor measures 5 cm above ground, about 30 cm next to the weather station.
At the same time the humidity is measured in %.
Precipitation
The measurements are done automatically with seesaw, which is compared with the manually determined amount according to Prof. Hellmann (100 cm²). The deviation of the automat is 0-10 % and can be up to +15% in case of heavy precipitation.
Snow
Snow depths will be entered manually on the website in the future under the menu item Archive. The value is an average of 2 to 15 manually measured values at meaningful locations in the garden - depending on the degree of drifting. It is still planned to retrofit a heater to the automatic recording system for precipitation below 0°C. Until then the manual measurement (Hellmann) is used for snow, sleet, hail, hoarfrost and ice.
Global radiation
The sensor measures the sum of the light radiation (e.g. sun, artificial light, etc.) acting on it and is located 2 m above ground at the precipitation automat.
Anemometer
The anemometer is located on the roof, approx. 11 m above ground or 1 m above roof ridge.
All other values shown are calculated from the measured values.
Webcam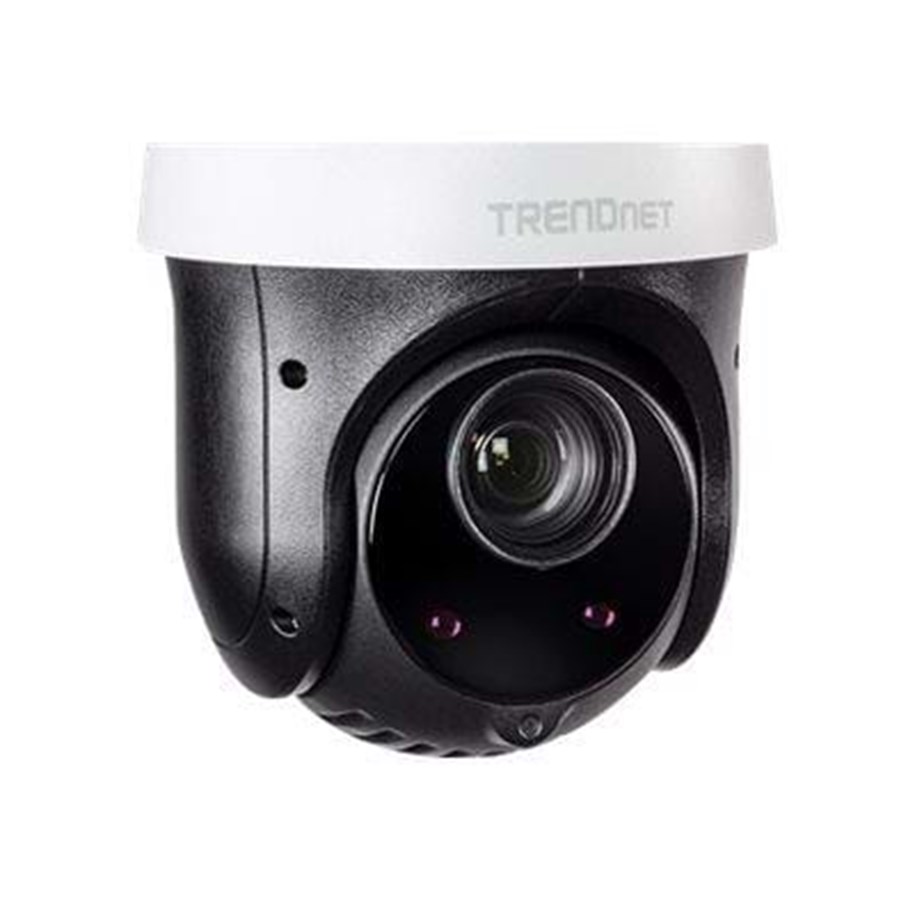 Model
Trendnet TV-IP440PI, Dome Network Camera, 2 Megapixel, 20x Optical Zoom
Location of Webcam
On the south side of the roof of the office building Halsbrücker Str. 34, 09599 Freiberg (approx. 28 m above ground - approx. 433 m NN)
Many thanks for the easy permission and very kind support by the German Fuel Institute (DBI).
Update Interval
At the moment the webcam scans the panorama in continuous loop, zooms to the mentioned places and stops briefly. Meanwhile, snapshots are taken every 60 seconds and transmitted via FTP.
View
You look from the northern outskirts of Freiberg to the south over the city area of Freiberg to the ridge of the Erzgebirge (about 30 km). From its location, the webcam shows a panorama extending from east over south to about 270° WSW.
Landscape markers included in the panorama are labeled in the panorama image: starting from the east, the Reiche Zeche (approx. 430 m NN), the chimney twins of Muldenhütten, the Alte Elisabeth,the Freiberg city area, the Brand-Erbisdorf chimney (approx. 490 m NN), behind the Münzbach valley (approx. 360 m NN) the new building (2020) of the university library and next to it the campus of the TU Bergakademie.
For more Panorama explanation please see above.
History
2023
Further refinement of the display as well as supplementation of the current measured values with values for days, months and years (precipitation, evaporation, radiation, etc.).
Translation of the information into English.
2022
Further refinement of the presentation as well as supplementation of the current measured values with values for days, months and years (precipitation, evaporation, radiation, etc.).
Translation of the information into English.
2021
Further additions to the menu items "current measured values" with measured values such as precipitation, wind direction, etc. as well as under "statistics" and "archive".
2020
Addition of a sensor at +5 cm to the air temperature measurements
Addition of a webcam to the weather observations. In the process, Saxonia Freiberg was obtained for mounting on the roof of the DBI building. The webcam now shows a panorama, which is one of the most beautiful views of the Saxon Ore Mountains available online.
2019
Commissioning of the creation of my own weather homepage and joint development of the pages with the friendly support of the Team of IT-Service Porstmann. The data transmitted via Weatherlink software to the US cloud and the presentation has not been satisfactory for me and editing by me there is not possible.
2018
Addition of a ground sensor at -10 cm to the temperature measurements.
Reservation of two domain names
2017
Addition of precipitation measurements by an analog measurement possibility according to Prof. Hellmann with a 100 cm² - vessel.
In August 2016
weather recordings were started using the current weather station Vantage Pro 2. Biggest thanks for this "laying of the foundation stone" goes to the private Weatherstation in Dresden, which provided the station as a permanent loan as well as to my family members, who could inspire themselves then nevertheless for the project.

Keine Haftung für Inhalte externer Links!
No liability for contents of external links!